In school and out, poetry helps young writers find their voices.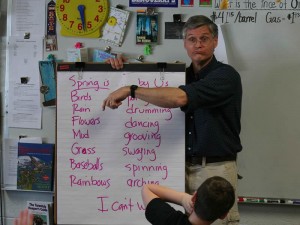 Poetry is magical. At least that's what I have discovered, and I'm stickin' to it. Whether you are reading poems aloud, or writing poems, families and classrooms seem to take on a fun, lightness when poems come into play.
Yes, play. I love poetry because it is naturally playful. I tell kids that writing a poem, or hearing or sharing one aloud, is all about playing with words. Whether it's a rhyming, rhythmic verse or not, a poem is like music that captures, in a short, focused way, important details of our lives.
Poetry helps kids (and big kids like us too) find their own special voices, and share them with the world. Poets of all ages tend to be sharp observers of our planet and our hearts. And we become better 'discerners' of words—we ask, "what's the best, most surprising way for me to say what I need to say?"
To Parents and Teachers alike, I suggest having fun with poems—especially sharing them aloud with children as often as you can. To that end, I have included some hopefully-helpful resources and links here for you.
I am certainly happy to help you make that happen more easily, however I can. If you don't find what you need here, let me know what you need.
And, of course, I'd be seriously tickled to come, in person, to your school to help inspire your children and students to have more poetry fun!