Performances and Family Events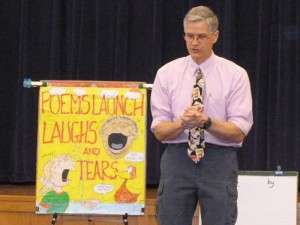 When I read my poems at school assemblies, in libraries, and at evening family shows at school, it's always a fun performance for me, and for kids and their parents. At least that is my goal. I try to bring my poetic voice the "kid" in me, and the voice of kids everywhere to life. It's a voice that's sometimes worried or questioning, silly or serious, slightly polite or gently irreverent, all at the same time. It's a voice that tickles gigglebones and tugs at heart strings.
Family Shows
These are roughly 1 to 1.5 hours long, and take two forms:
1. Evening School Celebrations
Most often these fun family events happen at the end of a school residency, in the early evenings. It's an important celebration of our work—giving the kids a chance to share their own poems with their families. We often gather in the school's gym or auditorium. Sometimes schools even arrange pizza for everyone! I am usually the "warm-up" act and MC, welcoming everyone, describing (for the parents) the amazing work we have done together. I usually read some of my favorite family poems before introducing the main attraction: the kids reading their own 'freshly-cut' poems from our in-school workshops. Often we'll even do a little poetry workshop where families have fun writing poems together. It has never failed to be a great community building event! Everyone leaves feeling great about the school and the kids. Often book sales and book signings follow, to help raise money to pay for my residency. Contact me about adding this on to your residency.
2. Performances
I also love to do poetry readings for families and kids of all ages. These most often take place in town halls, libraries, or schools. I get everyone involved in sharing the playfulness of poems with lots of interactive poems and songs. Everyone giggles (I guarantee it), especially parents, at whom many of my poems are gently aimed. Often book sales and book signings follow the shows. (Plan for about an hour.)
Fund Raising & Book Signing
Schools and organizations often like me to sign books after a performance, and I'm more than happy to oblige. Selling books can be a great way to help pay for the performance. The school gets 20% for the retail price for each book sold.
Need More Information?
Good! Please contact me below for more information. Together we can plan a performance that I promise will be "buzzed" about for a long time after I am gone.
Also, you can check my schedule here.
Ted Scheu
P.O. Box 564
Middlebury, VT 05753