Poetry Teaching Resources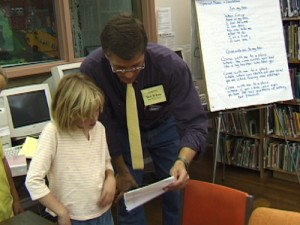 I'm a former classroom elementary teacher in Vermont (I've taught all the grades K to 5th) who, surprisingly, was too uncertain about poetry to use it much in my classroom. Of course, I now proudly carry and furiously wave the poetry banner, as you'll see if I come to your school.
As many of you have done, I've discovered how easily poetry—with its flexible, looser rules—can be easily incorporated into an elementary classroom's writing workshop. All kids—and especially the more tentative, tangled writers—seem to love the simplicity and the fun, forgiving nature of writing poems. Imaginations soar, hearts open, and revision comes much easier—all because poems are shorter and more evocative. One can say a lot in a small space in a poem. And kids can also clearly and easily see that, because a poem is short, every word they write has to be the most surprising and delicious they can find in their heads.
Have some fun with these mostly K-5 poetry lessons that I have developed and find super-easy to use. I'll add more soon. Down the road (not too far) I hope to add to my website a way for teachers to submit their own favorite poetry lessons. That's Phase II—coming soon.
Here are 10 easy ways to use my books in your classroom–to help you and your kids have fun with my poems.
Here are pile of marvelous links (at least I think they are) that are brimming with great information and help (and more links!) for helping you teach poetry. I have also included a pile of great Author/Poet websites you can visit. Just don't forget to come back!
Here's my list of books–both fine poetry collections and amazing teacher resources and lessons–for you to use. Or you can push the button on the left to get there too. Have fun!
If you have any thoughts or questions, concerns or suggestions, please don't hesitate to contact me.
Good luck! And have fun! Four cheers for poetry!